Meet Alan Wakeman!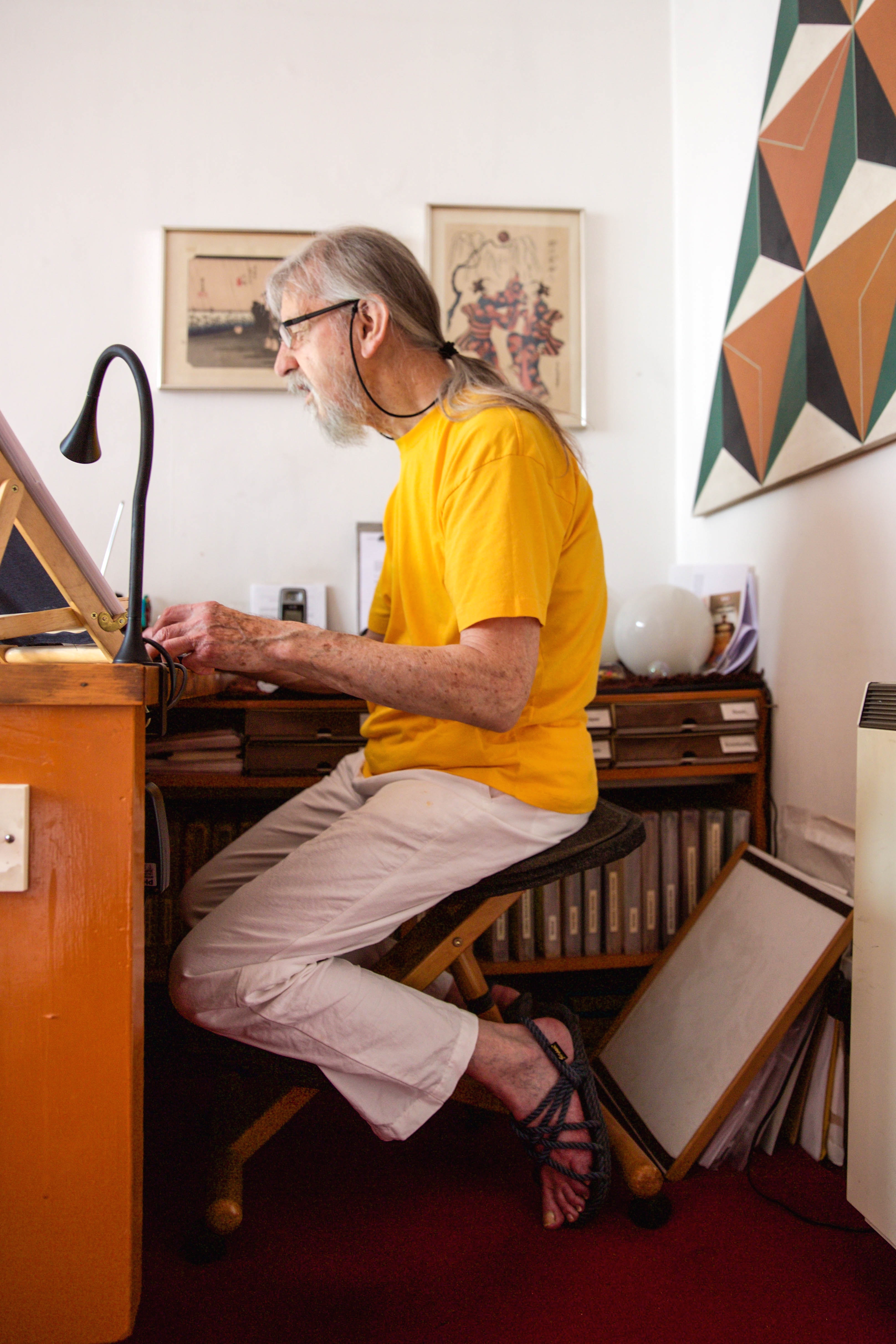 Alan became a dear friend to our CEO Dan in the short time they knew each other and Dan would regularly visit Alan either at his Soho club or in his home to discuss all manner of things, including Alan's dream of releasing his translation of the children's classic 'The Little Prince' which the St Exupéry family told Alan was the most delicate and respectful translation they had seen, something he was very proud of. It is Dan's sincere wish to make this come true and Fantastic Books Publishing have ebook and print proofs ready to publish following a chat with the beneficiaries of Alan's estate. Thank you to the amazing Iona Wolff for this and many other photos of Alan and his bohemian Soho apartment.
To attempt to put Alan's life into words would be foolish without consulting him and, sadly, we cannot. So, as nobody could introduce you to Alan Wakeman better than the man himself, here is Alan's story in his own words. We sincerely hope you enjoy it and will consider purchasing a copy of Alan's autobiography 'Fragments of Joy and Sorrow' so that you can learn even more about this remarkable man.
Now grab yourself a cuppa, get comfortable and enjoy!
I was born in London in 1936 of ordinary English parents and grew up during the second world war. When I was five my family moved to Coulsdon in Surrey which then still had the feel of a country village. My earliest memories are of wading through fields of wheat with skylarks singing their hearts out overhead on my way to sun-dappled, secret bluebell woods with shady pools where kingfishers, chaffinches, wrens, owls, butterflies, dragonflies, spiders, lizards, snakes and every conceivable kind of beetle scurried about on evidently vital business. Paradoxically, despite the second world war and its Nazi bombs daily dropping indiscriminately into this childhood dream, I felt quite safe on these sacred expeditions which always began with my heading up to the downs where, usually alone, sometimes with my kite, sometimes with my brother, I relished each new secret exploration into the fabulous and infinitely fascinating world of tiny creatures that inhabited every myriad crevice and chink of what to me was my personal realm.
Sometimes, during these expeditions I would encounter a lusty young farmhand with his shirt off and be confronted with the perplexing truth that the sight of a beautiful young man's body stirred in the depths of my being a powerful mysterious instinct to touch, to caress, to... what? I didn't know, though somehow I knew instinctively not to speak of this perplexing mystery to either adults or childhood friends. Despite this early self-knowledge I had no sexual experiences whatsoever during a decade of primary and grammar schooling although I did occasionally find myself almost overwhelmed by longings aroused by a select few of the more athletic senior boys who seemed to belong to an admirable and entirely unapproachable species of humanity from me.
While I was in my final year at grammar school, preparing for university, my father's wholesale catering supply business went bankrupt (through no fault of his own - a change in government policy removed his entire market at a stroke). Although this seemed a disaster at the time I've since come to view this misfortune of my father's as lucky for me personally because it prevented my following a conventional path to a conventional profession. I was only 15 but had passed seven subjects at GCE Ordinary Level and easily got a job as a junior assistant - office boy really - in an architectural office where I began evening studies with a view to qualifying as an architect. However, after two years' of working eight-hour days and studying three hours a night, I was called up for national service. At the time this seemed a possible escape from what had developed by now into an overwhelming dread of my sexuality and its probably inescapable, almost certainly dire consequences.
I spent the next two years in the Royal Air Force where I was trained in electronics and sent to the Far East. After a month in Singapore I was posted to Ceylon (as it was then called) for a year working as a non-commissioned officer in charge of the Circuit Control Section of the Signals Centre, Negombo. This was a large RAF airport and base a dozen miles north of Colombo where my work consisted chiefly of selecting the best frequencies for transmission and reception of radio signals for CAF - the Commonwealth Air Forces Communications network. It was my responsibility to maintain 24/7 'solid' (i.e. interference-free) teleprinter communication with Circuit Control Centres in London, Nairobi, Singapore and Melbourne, regardless of local atmospheric conditions. (It was a peak year in the eleven-year sunspot cycle at the time so this was no easy task.) I was also responsible for servicing and maintenance of the receivers and teleprinters and maintaining order in the section which consisted of about twenty airmen.
In the hut where I lived, my fellow national servicemen, all aged between 18 and 20 and many of them gorgeous, strutted about naked most of the time, boasting what they'd do if any 'fucking queer' dared approach them and I naively took their hostility and bragging at face value and tried to become invisible. I remember walking among the coconut palms at night crying with loneliness and despair as I looked into the pools of light in the huts that were our home where what I thought of at that time as 'normal' men were laughing together, drinking together and playing cards together. Curiously, all of this somehow caused me to doubt the wisdom of the career in architecture that had more or less been thrust on me but after leaving the RAF (with a glowing discharge certificate), I was unable to think of anything better to do and, still lacking the courage to 'drop out', reluctantly returned to the same architectural firm and studies.
For the next four years I worked as a full-time architect at a number of different practices and studied in the evenings at the Regent Street Polytechnic (now the University of Westminster). I was still living with my parents in Surrey so this also involved the misery of daily commuting. Although I was good at the work and soon promoted to a well-paid executive position with a company car, running major projects with graduate architects under me, I was desperately lonely and unhappy and gradually became disenchanted with architecture because I always found myself working on projects I reviled. For example, one of my last jobs before I dropped out of architecture involved designing pig-farrowing and fattening houses for a farmer in Berkshire. The work was being constructed by direct labour so my boss sent me to live on the farm to supervise the laying and construction of the various buildings and spend my days working on a project I despised (with a sexy farmhand as my only distraction) and my evenings arguing with the farmer that factory farming was immoral.
At about this time I met and was desperately attracted to another young architect. As far as I could tell he didn't mind but didn't share my feelings so I thought I was as lonely and miserable as it was humanly possible to be but then he got married and emigrated to Canada and I hit rock bottom, came dangerously close to suicide, agonisingly decided against it until, finally, in 1959, I 'dropped out' (although the term hadn't yet been coined), sold 'all my worldly goods' and took a one-way train ticket to the south of France. Looking back, it seems to me that it was at this point that my adult life began.
For the next three years or so I lived in France - winters in Paris, summers in Provence - and began pouring out novels and short stories full of anguish and romance. Of course I knew better than anyone that there was nothing romantic about being poor and alone in a big city because I was soon broke and had to do a range of jobs to support myself. I washed dishes, painted houses, sold crêpes in the street and worked as a waiter in various restaurants until, in one in Provence, to my astonishment, I virtually became the manager. My French gradually became fluent and I became more and more interested in the business of languages and language learning and, for my last year in France, was able to eke out a precarious existence giving private tuition in English to wealthy, usually mean, often exceedingly eccentric, French aristocrats of both sexes - who usually, though not always, made passes at me which I usually, though not always, rebuffed.
When I returned to London in the early 1960's I began teaching English full time and in 1964 got a job at a recently-opened school in central London called International House and was almost immediately put in charge of their newly installed language laboratory. At this time this was a completely new field and as it happened my disparate experience in English teaching, architecture and electronics stood me in good stead. For the next six years I sublimated all my emotional and sexual despair in pioneering methods of working with this complex equipment, became a director of the school and travelled widely for them, setting up schools, installing language laboratories, training teachers to use them, giving lectures and seminars and so on in Europe, North Africa, the Far East and the USA. During this period also, I wrote and published a ground-breaking English language course for foreign students called English Fast comprising 12 books, 56 audio programmes and 2 song records, devised, written, produced and directed for Hart-Davis Educational, London 1966-1972. By 1970 it was selling well enough to support me modestly and enable me to give up full-time teaching and lecturing to return to more imaginative work. I'm happy to say I haven't had a full-time job since.
In 1970, at the age of thirty-four, after a lifetime of vain boasting I was never ill I got insulin-dependent diabetes. Once I'd got over the initial shock of learning I'd have to inject insulin every day for the rest of my life, the inevitable question 'why me?' demanded an answer so I began reading on the subject and soon discovered I'd been eating entirely the wrong diet. This is a big subject and this isn't the place to go into it. Suffice to say that had I known then what I know now I needn't have become diabetic at all. So - despite my early concerns for animal welfare - my original reasons for changing to my present vegan whole-food diet, were concerned more with health than ethics.
Also in 1970, the Gay Liberation Front was awakening in Britain and I threw myself into it as soon as I heard about it. Among its many powerful influences was the almost ritualistic taking of LSD which was thought essential by GLF's leading lights for the dissolution of the self-oppression foisted on us by our treatment throughout human history as pariahs. GLF pioneered techniques for the rebuttal of mainstream society's vicious lies about us and thus for the historic recovery of our pride in ourselves as valuable equal citizens. As a result of all these dramatic changes, I dropped out (for the second time!) and threw myself into the alternative culture that was burgeoning everywhere at the time. This in turn led to two other important events in my life. First, a musician friend and I formed a band called Everyone Involved and spent a year making an album called Either/Or which, once finished, we idealistically gave away free, sometimes in the street. (In 2012 an Australian record-company released Strong Love - a compilation CD of out-front gay songs with A Gay Song from Either/Or featured as the first ever recording of a proud gay song in the world!) Second, in 1974, I was a founder-member of Gay Sweatshop, the theatre group which, in early 1975, staged the world's first season of proud gay plays, including one of mine called Ships. Two world firsts! Wow! I felt, legitimately, proud of myself at last.
The forming of Everyone Involved and the making of Either/Or led to the most important event of my life. One day in October 1971, the band's keyboard player turned up at a rehearsal session with a seventeen-year-old school friend called Peter Granger and I fell instantly, completely, absolutely, unconditionally and utterly in love with this magnificent man who became the emotional core of my life and remains so to this day.
Our magical loving friendship lasted for fourteen years until, on October 22nd 1986, my true love was run down and killed by a bunch of brainless teenagers in a stolen car. Wretched with shock, despair and disbelief, I was almost overwhelmed with grief for years until I conceived the idea of writing and publishing a poem to celebrate the joy and privilege of knowing the best and most beautiful man that ever lived: Beloved Friend, Gemini Press London 1989.
A quarter of a century has passed since Pete's tragic death and forty years since I first met him and my love for him has not diminished one jot. On the contrary, I've slowly and painfully come to understand what a privilege it was to experience perfect love even for those few brief years. To such an extent that, by the turn of the millenium, life had become rich and rewarding again. Then, just before Christmas 2002, another event occurred to bring a taste of Peter Granger magic back to my life when his widow rang me from her home in California to tell me their son, James, now aged 17, had decided to return to London. She asked if I could help him find somewhere to live and I was so stunned, astonished and honoured at this totally unexpected reconnection with the magic man of my life that for a moment or two I was speechless; when I got my breath back, I said: "It would be a privilege."
I'd last seen James as a toddler in his father's arms but when we met again I found he'd grown up into an enchanting young man (of the exact age his father was when I first met him!) with Pete's looks, charm and charisma. At our first meeting as adults we connected instantly and I truthfully told him his father would have been proud of him. This wonderful turn of events brought out all my nurturing instincts with the added bonus of having an amazing spiritual "son" to be proud of.
After seven rewarding and eventful years living in ,London James decided to return to USA and now lives in New Orleans. Although I personally preferred it when he lived here and I knew every single day that he might turn up at my door with his habitual cheery greeting and honest shining eyes - so like his wonderful father's! - I also know that he's a wanderer like his father so I'm confident he'll turn up in London again one of these days - a thought that makes me smile.
As for me, because of the extensive air travel of the first half of my life (round the world three times!) I acknowledge that my personal carbon allowance has gone and it is now my moral duty to confine myself to walking, cycling and public transport.
Recently I've contributed articles, photos, videos etc. to the 40th anniversary celebrations of London GLF including organising a reprint of the original Gay Liberation Front Manifesto and on Gay Pride Day 2010 I joined other GLF veterans to lead a million marchers along the same route nine hundred of us took 40 years before. Back then we were defiant rather than proud but this time we were cheered and applauded all the way! Boris Johnson, Mayor of London, had the cheek to join us at the front of the march despite his track record (when an MP) of voting against every piece of liberalising legislation introduced by the previous labour government so that, thanks to him and others like him, all we GLF veterans had to wait till we were old-age pensioners to get the same civil rights he's enjoyed all his life.
So now, I'm back where I started, making solitary daily explorations into the fascinating world of exotic creatures that inhabit London's urban jungle whose forests contain denizens every bit as baffling and considerably more dangerous than those I first encountered over sixty years ago on my daily explorations of the idyllic Surrey countryside of my childhood.
We hope you enjoyed reading about Alan's incredible life. He managed to cram more into his 79 years than most of us would hope to squeeze into three lifetimes. Farewell Alan, as you told our CEO just days before you passed away, your journey is just beginning.