EliteMeet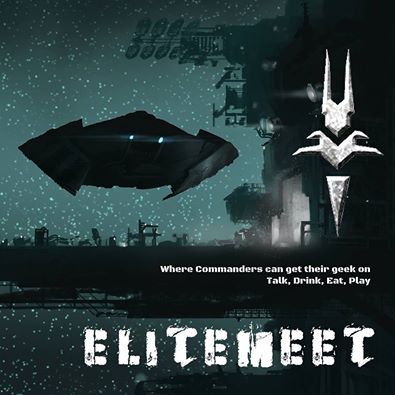 What a wonderful weekend break our head honchos Dan and Gabi have just enjoyed at EliteMeet in Bristol. While we toiled in the whirring, clunking underbelly of the FBP Offices, our brave leaders were forced into a car, chauffeured to Bristol by the ever graceful Commander Sam Stanley (he of retro gaming 16-bit Sam fame) and Ben Moss-Woodward, fed the finest foods and press ganged into playing the finest and most enjoyable board, RPG, retro and Virtual Reality games and then, no doubt entirely against their will, given copious amounts of alcohol and sent to bed at one of Bristol's most central and pretty hotels, the Grand.
Obviously as underlings in the cellars we know nothing of 'enjoyment' or 'freedom' but hope that our masters had a good time and they will return soon to continue at the helm of our great endeavour (and possibly top up our water troughs if they get a moment and would be so kind).
EliteMeet is a gathering of folks from one of the friendliest, welcoming and accommodating gaming groups in all the world, that of the Elite: Dangerous fan community.
From local celebrities like Amy Virgo (and her less well known husband KerrashLanding, who we hear is some sort of game streamer) and Leader of the vast Hutton Truckers movement Alvin Deefer (and his stroker/feeder/minion Mike Snoswell) to Commanders from further afield including the wonderful, the irreplaceable, the frankly Fantastic 'Super Sound Cube' from Glasgow (and its roadies Grant and Simoof) and CEO Dan's singing student Carl Agnew (who has a beautiful voice now, though Dan tells us it was quite a struggle during Carl's difficult 'screech' years) to the ever present and always besuited David Pearson (who is a sort of stress sponge and always adds a certain 'we've got this' feeling to any event he's involved in), a veritable posse of Elite: Dangerous leading lights arrived to make the party go with a bang.
John Fletcher threw wave after wave of zombies at unsuspecting event goers, though failed to consume any throughout the day. Cats exploded and Cards were thrown wholesale against Humanity.
The food was delicious (a sort of posh school buffet arrangement with goulash and cauliflower cheese and quiche and all manner of delights) and the drinks flowed freely (a little too freely for some).
An epic raffle was read and, after what felt like at least three days, eventually ended. Raffle stalwart and famed Commander Steph Wyeth was whisked away from the convention at the last minute and so couldn't compere (we can only presume on some secret and dangerous mission, as is her usual modus operandi) and was missed by all. Our collective best wishes for the success of your mission Commander. Her replacements, though clearly a shadow of Commander Wyeth, managed to battle through and did a sterling job. Commanders Craib and Phillips, we salute you.
The leader of the grand mission to create the ED: RPG arrived to great fanfare, was carried into the room atop a golden throne and plonked, rather unceremoniously we thought, into the midst of the baying crowds. Jon Lunn handled his new found fame with dignity and was heard to shout 'back away peasants, I require refreshment' only a handful of times throughout the event. A wonderful Commander with a true passion for the game (and some rather deep insights into the future of the game though all is, of course, conjecture at this stage). Dan enjoyed meeting him and they seemed to get along rather well. FantastiCon was mentioned though only in hushed, conspiratorial tones...
Commander Dave Hughes, creator of the original E:D RPG Elite: Encounters, was not present at the event due to horrid real life stuff and was missed by all. Our very best wishes go to him and his wonderful family. Dan and Gabi have plans to descend on Derby Orbital soon and will be in touch presently.
Hober Mallow, scourge of the robotic hordes, master of Gun-Fu and intimidator of Artemis Comms controllers (with, we think, an obsession with either the 'chuckle brothers' or 'clusters' of things) wowed the crowds and showed off his amazing skills in the virtual reality arena (this really has to be seen to be believed).
Helen Lister, ever the professional, was seen hurriedly scraping together enough information from her phone to blag her way through a live Hutton Orbital Radio broadcast in front of a live studio audience. She was heard to comment later, 'I spent nearly an hour playing snake before the broadcast, I just thought I'd wing it and see what happened'. What happened, as always, was a slick and professional broadcast marred only slightly by an unexpected cameo by the aforementioned Hober Mallow. Helen's partner in crime Robbie was missed and the bar apparently ended the event with an excess of quality artisan ale as a result.
Zac Antonacci and Ed Lewis from Frontier Developments were as usual a complete delight and spent the vast majority of the evening serenading folks with their well known duet 'Brookes you are our leader, your beard inspires us all'. They are usually happy to give acapella performances of this and should be asked to do so as frequently as possible on game streams, special appearances and at events. Zac also destroyed our CEO's ship while playing the amazing Elite miniatures game, GMed by Colin Ford. The above request for acapella singing from Zac and Ed is, of course, in no way related...
Nomi, occupational therapist and all round awesome Special Effect guru, showed off the charity's latest eye tracker devices that help folks with physical disability get back into gaming. She worked tirelessly all day and was wonderfully patient with the crazy and steadily more inebriated crowd of Elite: Dangerous commanders throughout. Welcome to the madness Nomi, we hope to see you at FantastiCon!
The five people per team Artemis spaceship bridge simulator, replete with warning lights and a central Captain's console, was amazing and many a team headed into the black in search of death or glory at the hands of the enemy. Bill Carey even acted as 'night watchman' for the equipment, at one point allowing a roaming CEO into his sleeping bag for warmth. This CEO remains, as yet, unidentified. Later, the Artemis room doubled as a sort of impromptu wrestling arena too and much fun was had by all.
As ever, reports became more confused as the night wore on and it would be remiss of us to suggest that the above is an exhaustive list of all the amazing personalities who helped to make this year's EliteMeet such a fantastic party. Paul from HCS Voicepacks for example, who admitted a lifelong fear of the game Jenga the poor soul (despite Dan whispering encouragement whenever his turn came around), was a complete delight throughout and even went as far as whisking many a Commander around the room in a sort of waltz/samba fusion. And the inimitable FireyToad made an appearance too, always a special moment as he usually resides in an underground lair. From organisers and volunteers to guests and the hotel staff, there will be many who are not mentioned here directly but you know who you are and we thank you for taking care of our head honchos so magnificently. They had a really great time.
So, in conclusion, if you are a fan of the computer game Elite: Dangerous and/or want to be immersed in one of the friendliest communities on the planet, get yourself to this convention. It started off as a tiny pub meetup with pals and has grown year on year into a great place to hang out and chat with likeminded folks. You'll meet the organisers of EliteMeet at this year's LaveCon and at our own event, FantastiCon (held this year at the Guildhall in Hull over the whole weekend of the 2nd and 3rd September - fantasticon.co.uk). We'll see you all there!
If anyone would like a more in depth analysis of the event from the CEO's mouth and are within boosting distance of Scarborough next weekend, Dan will be accompanying John Whitehouse (FantastiCon's Mr VR) to Sci-Fi Scarborough where he will be promoting FantastiCon, playing with VR and attempting to rid the convention of as much fudge as possible.
Ok, back to the grindstone for us... literally... they make us sharpen our editing pencils on a grindstone...
The Fantastic Underground Editorial Team