Yorkshire Wolds Railway
Fantastic Yorkshire Wolds Railway Short Story Competition
The winners were announced at a prize-giving on site at Fimber Halt on Sunday 30th April 2017. The prizes were presented by competition judge, Richard Faulkner, Lord Faulkner of Worcester, President of the Heritage Railway Association and by Mark Blakeston, Mayor of Driffield.
Because we were especially looking for entries from railway and Yorkshire Wolds enthusiasts, including from those who had never before turned their hand to short story writing, our editorial team gave everyone a head start by putting together a detailed guide with ideas, practical tips, examples and even some opening lines. These tips and tricks remain available as a resource to writers.
Click here to find out more about the Yorkshire Wolds Railway and the work they do.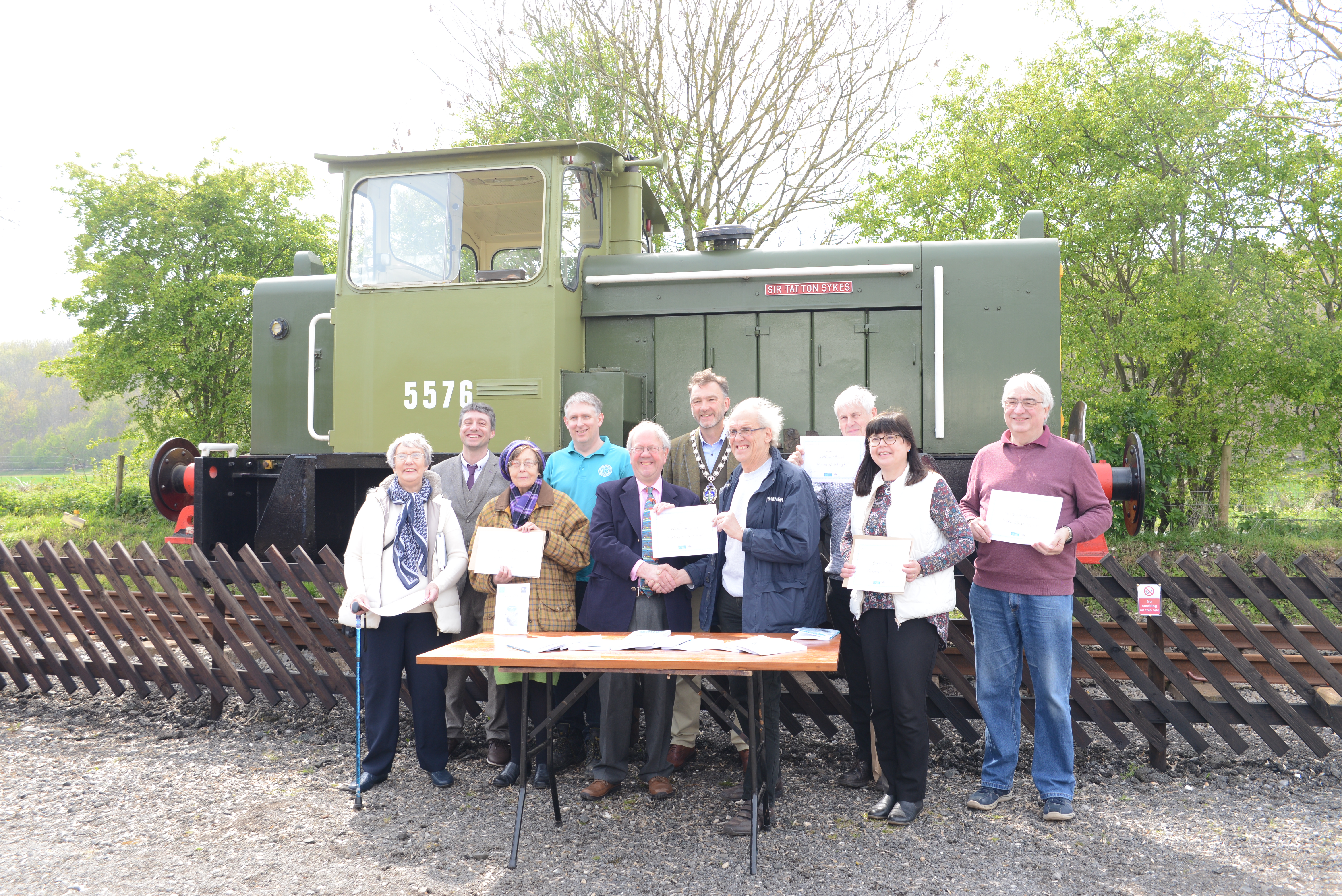 Chair of the judging panel, who also wrote the Foreword to the anthology was Lord Faulkner of Worcester, President of the Heritage Railway Association.
The results were as follows:
- 1st prize was awarded to Peter Briddon for Return to Wetwang
The two runners up were:
- Elaine Hemingway with The Diary of Daniel Duck
- Richard Simmons with The Last Train
The Julia Bradbury prize for capturing the spirit of the Wolds was awarded to
- Alan Paine for Trains of Thought
The judges highly commended
- Madeleine McDonald for A Solicitous Wife
- Janet Batty for Dodging to a Halt
The following authors were long-listed
- Neil Anderson (twice!)
- Claire Artley
- Jennifer Douglas
- Ron Elsdon
- Malcolm Guthrie
- Leslie Hatfield
- Colin Hollis
- Peter Rogers
- Robert Shooter
- Alan Smith
- Emily Smith
- April Taylor
The authors who were invited to contribute to the anthology were
- Drew Wagar with Posh Girl from London
- Richard Dixon with Glimmers
- Penny Grubb with Sir Tatton Cooperates
- Lucy Bilton with Hibernaculum
23 railway inspired tales that mine a rich seam of creativity from the...