Fusion Competition
SHORT SCIENCE FICTION COMPETITION 2012
1st prize: Tam and the Giantess by Katy Huth Jones
2nd prize: Bar Code by Denise Hayes
3rd prize: Infinite Maze by Leonie Ewing
The competition was judged by award-winning novelist Penny Grubb who later interviewed several of the authors. Visit her blog and search for Fusion to read interviews with the prize winners, the professional contributors and many of the other authors including Drew Wagar. It is an interesting footnote to the history of Fusion is that it was our first introduction to Drew Wagar who entered the competition, was shortlisted with his story, Metal, and has since published several Sci-Fi novels and become one of our best-selling authors.
Our first ever competition asked for stories of up to 1500 words in both the science fiction and fantasy genres.
We wanted to show that the line between genres can blur quite significantly and what may appear as fantasy to some, could just as easily appear to be science fiction at work to another.
The collection features 25 stories, all very different.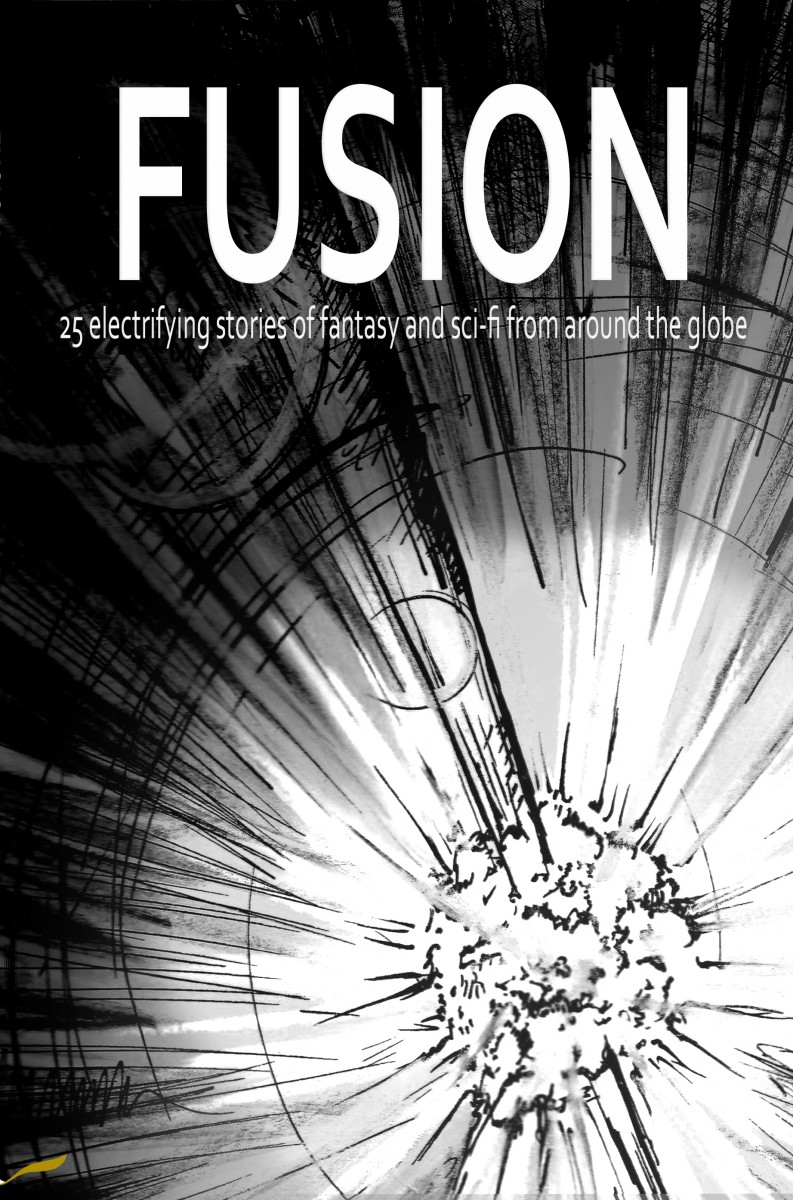 Containing professional contributions from Stuart Aken (Rebirth) and Danuta Reah (The Trouble with Dragons), the collection weaves its way from deep and magical landscapes where terrifying battles take place across various planets through to apparently mundane situations with an underlying fantastical twist.

Following the e-release of the collection, we approached digital artist Alice Taylor as she had expressed an interest in the stories. Would she be interested in creating the cover art for the collection? Alice insisted on reading every story to get a feel for the work, and when we saw her proposed cover art, we decided to hire her not to create the cover but to produce 25 individual pieces, one for each of the stories.
The cover reads; '25 electrifying stories of fantasy and sci-fi from around the globe', and we couldn't agree more!
The entrants came from as far afield as Australia, New Zealand, America, Canada, France, Finland and the UK.

For the cover art we approached talented air brush artist B.Dziok in Poland to create what we feel is an amazing representation of the Fusion of the two genres. We used the colour version of the artwork on the ebook and the black and white version for the paperback shown here.
10% of the sales from this collection were always going to be donated to charity so we decided to choose a global charity as the stories were written by such an eclectic mix of authors from around the globe.
The charity we chose was the WCRF (World Cancer Research Fund) who do life changing work in the field of cancer research all over the world.
The collection is dedicated to a dear friend of the company, Ann Humphry, who sadly lost her life to cancer just days before the collection was published. A staunch supporter of our work and a shining light in the LGBT community, Ann was always a source of great inspiration to us all and continues to be after her death.
FUSION is available from the Fantastic Bookstore, Amazon and all good retailers.
A collection of 25 stories of fantasy and science fiction from around the globe, each illustrated by digital artist Alice Taylor. This collection has been compiled from the winners of the Fantastic Books Publishing International Charity Short Story Competition 2012 and features 2 stories from our professional contributors Danuta Reah and Stuart Aken. 10% of the proceeds of this book will be donated to the WCRF (World Cancer Research Fund - Registered Charity Number - 1000739) who do sterling work in the field of global cancer prevention.

Learn More