FantastiCon 2016 - Success!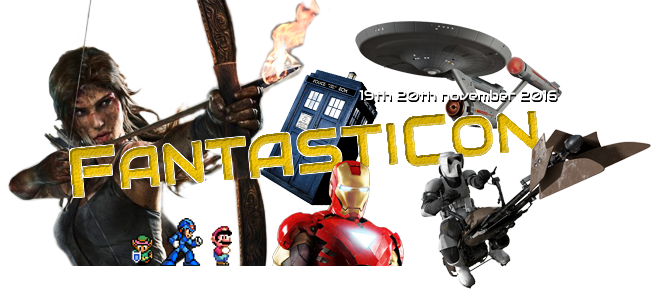 FantastiCon 2016 has been and gone and what a wonderful weekend it was!
The beautiful Guildhall in Hull was the venue and you guys partied until 3.30am on both nights (mornings). Also, thanks to not being able to get into the venue until 5am Saturday morning (the first day of the event), there was a mad dash to setup in time for the early access backers to arrive at 8am. We just about made it but it was a real scramble at times and the amount of people who arrived early just to help us setup was very humbling indeed.
As it was such a varied convention this year it's really hard to find a single highlight that stood out for me, although Gabi diving out of the NERF war shouting something regretful about wearing a low cut top was one of my personal favourite moments.
From Robert Phillips and the Sons of Skaro's Dalek creations (some of which had to be carried upstairs by our wonderful Hull College volunteers), Euan Gloyn's incredible TARDIS, Damien and John's amazing VR room, the Annimersion team with their incredible hologram tech, Simon Burley's very popular RPG adventures, live music from Saraswathi, Kitten von Mew and Jemma Johnson (poor Dan Smith had a sore throat so couldn't sing but did a great job helping us MC some of the gaming events later on), live book readings from Drew Wagar, Kate Russell, Graham Austin-King, BJ Edwards and John Scotcher, great panel chats from George Johnson, Dan Smith, Richy 'Mahhdogg' Reah, James Vigor and the amazing cosplayers to the excellent computers and control equipment lent to us for the event by our generous sponsors Thrustmaster and DinoPC and, of course, KCOM who's superfast broadband infrastructure helped us to stream the whole event live, the event was extremely fun!
Thanks to everyone who backed the Kickstarter to help us out with the costs, thanks to everyone who came along and made it awesome and a special thanks to all the volunteers who brought equipment, expertise and themselves along to make the weekend an extravaganza of fantastic!
Damien from Darkened Design deserves a special mention here as he contacted me about the event right at the last minute and came all the way up with masses of equipment to help out in the VR room. He made the corridor leading to the VR room very 'Elitey' by adding twin green and red lights to the entrance too, as well as adding all sorts of wonderful techy stuff to the area throughout the weekend including a wobbly green nebula to the ceiling... an amazing guy with a true and palpable passion for super scifi tech.
There are so many folks that I'd like to thank for helping out but I fear I would miss somebody out and then feel terrible. Here's a tiny list of those who really stood out for me, but it is by no means an exclusive list. Please forgive those who I inevitably leave out; Harry Moore (Mr FantastiLAN room) and all the LAN guys, Sam Stanley and Lee Playle for doing a Fantastic job keeping the Retro Gaming area up and running, the LitFest team, Cayleigh Smith and Dominic Martin who kept the Cosplay Hospital spick and span throughout the weekend, Iain McNeil (the friendliest giant of a man you will ever have the pleasure to meet), the Listers Helen and Robbie (this wonderful couple always arrive early, help to setup, stay late, help to break down and then quietly disappear. True legends of both the Elite: Dangerous convention community and in general too), The Kowboyz (Grant and Simon Woolcott and Andy Webb, they kept the stage and sound going throughout and managed somehow to survive on a couple of cheeseburgers and coffee for the entire weekend), Stuart Aken (one of our most prolific authors, a dear friend and someone who, along with his wife Valerie, travelled many miles from the New Forest just to help out for the weekend), Sean 'Nocti' Schofield (he had the sim-pit in the corner, was helping Special Effect out all weekend and is always on hand to help at our events, he's a legend), Spencer Cook (he gained TRIPLE ELITE status in game live at the event, took hundreds of photos at the event and was also the man responsible for making sure all the little internets had satisfactory pipes to snuffle about in throughout the event... though they may not be the correct technical terms), all our dear traders who came along and wowed the public with the wonderful and varied creations, Baz Floyd (he's ace, enough said), the wonderful Frontier Developments team (Zac Antonaci, Ed Lewis, Bo Marett and Michael Brookes) who DIDN'T stay for Ed Lewis' birthday shenanigans... oh the things I had planned for you dear Ed... maybe next year... You are all amazing people and I can't thank you enough for the help, passion and enthusiasm you bring to the event, it would be nothing without you.
And finally... to my darling wife Gabi, her sister Weronika, Dee and Ebbie Kasiri and my dear Mother Penny, Aunt Danuta and Father George. You guys work so ridiculously hard for me in the run up to these events and for little or no reward beyond witnessing the madness from the inside out. I really can't thank you all enough.
However, I have news to thank those of you brave enough to stick it out to the end of such a gushing blog...
I have already booked the Guildhall in Hull for the 2nd and 3rd of September for FantastiCon 2017!
Unlike this year when we set up a Kickstarter to cover the most expensive bits of the convention, we are thinking of setting up a Patreon account (where folks can make a monthly donation to the FantastiCon pot) and having it run all year round to ensure the continuation of our little event well into the future. I'd welcome your feedback on whether or not you think this is a good idea.
The main reason we're thinking about choosing Patreon over Kickstarter is that they take much lower fees, allowing us to pump more of your money into making the event even more Fantastic!
Right, I'd better get back to the office or the team will soon start growling at me and rattling their cell doors in frustration...
Thanks again for a fabulous event everybody, I hope you enjoyed it as much as I did!
Onwards!


Dan
CEO